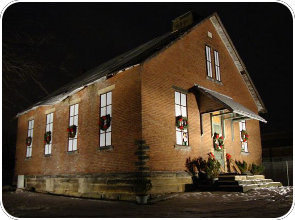 The Perry History Club was established in April 2007. The Perry Township History Club, Inc is a NON-PROFIT corporation. Donations are tax deductible under 501 (c) (3) of the IRS code.
Our Mission:
Preservation of the history of Perry Township and the restoration and preservation of the 1893 Genoa School House located at 539 Genoa Avenue S.W., Massillon, OH 44646, the only one room school still standing and available to be preserved in Perry Township, Stark County.
Our Goals:
 Restore the 1893 Genoa School House by raising money, accepting donations, memorial gifts, and securing grants.
Collecting/preserving, and displaying Perry Township's history.
Give school children the opportunity to experience what it was like to attend school for a day back in 1893.
Provide a meeting room for members, seniors, and community.
Be nominated to the National Register of Historic Places.
Mailing Address:
The Perry History Club, Inc.
P.O. BOX # 80575
Canton, OH 44708-0575
Email:
info@perryhistoryclub.org